Has the dental supply marketplace ever felt as volatile as right now? With the demand for masks and other infection control supplies at an all-time high, it's an unfortunate fact that unscrupulous sellers are looking to make a quick profit. Some online marketplaces, new suppliers and brokers are using "too-good-to-be-true" product quantities and pricing to promote counterfeit products.
When The Dentists Supply Company launched in 2017, it was with a mission to help practices of every size compete in a dynamic market. Since that time, TDSC has delivered consistent savings to dental association members, but the company has also been unwavering in providing supplies, small equipment and expertise that dentists nationwide can trust. That means 100% of the products sold on TDSC.com come from authorized sources.
To protect yourself from black-market goods watch this 15-minute presentation and use the tips below on how to identify and avoid counterfeit masks.
How is TDSC protecting dentists from dangerous black-market goods?
To ensure the authenticity of every product sold on its site, TDSC comprehensively reviews each potential supplier and manufacturer. Through this vetting process, multiple quality-control factors are evaluated:
Company size, years in operation, market position and financial stability
Reputation for excellent service and reliability, backed by references
Experience working with online purchasing/fulfillment systems
Ability to continuously review product and service delivery
Recently, shoppers have been generous in sharing potential leads for new sources of PPE supplies with TDSC. Using an 11-point checklist, the TDSC team has vetted nearly 100 of those leads to date. When the company does choose to partner with a new supplier, it is because the supplier meets high standards.
TDSC will not move forward with a supplier that is not a viable and trusted source, nor will it lower supply chain standards in pursuit of driving revenue. This way, dentists can be confident that their supplies are from reputable vendors, meet regulatory standards and will help them resume practice without compromising safety.
How can dentists keep from falling victim to scams in the market?
Integrity starts with a trusted source of supplies, and dentists should be wary of unproven marketplaces or sellers for masks and other PPE. Here are a few signs of counterfeit supplies:
Product red flags
The seller claims to have large quantities of masks.
N95 masks are described as ear loop.
Product or brand names are spelled incorrectly.
Decorative fabric or add-ons like sequins are used.
Product samples are not available.
An FDA logo is shown on the packaging or mask.
Here is an example of the correct exterior marking on a NIOSH-Approved filtering facepiece respirator from the CDC: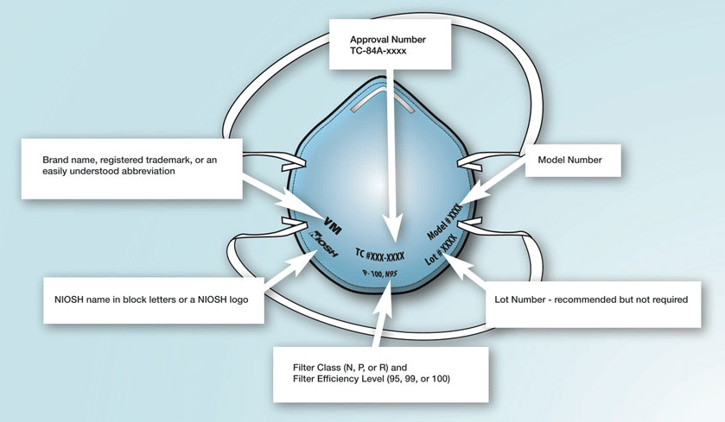 Purchasing red flags
Minimum order quantities are excessively large.
The seller cannot provide clear pricing.
A letter of intent is requested prior to sharing pricing.
Large down payment is required through an escrow account.
What should dentists expect next in the supply market?

The current climate of supply shortages will shift, but it's going to take time. TDSC is now placing maximum order quantities with contracted manufacturers, and inventory is coming in at a slow pace. And the company continues to search and vet new sources of PPE from FDA- and CDC-approved lists.
As soon as PPE supplies become available, established suppliers will secure them directly from trusted manufacturers. Know that higher prices are expected and pricing will vary widely until the supply market stabilizes. In the interim, patience, prudence and pursuing supplies through trusted sources will help dentists safely get through this crisis together.